Verdures & Aristolochia Collection
Meaning greenery and large leaves, these tapestries feature country scenes, plants and animals amidst abundant leaves and many having wide intricate borders. These tapestries were much favoured by the aristocracy. Many of these tapestries originally date from the 17th and 18th century. Greens and old burnished golds are common colours found in this selection, with some magnificent forest tapestries. Some especially large pieces may be found here.
Not all are available for viewing on the website. We welcome enquiries. Please contact us for further designs.
VA5028 GREENERY WITH HERONS
A 17th century verdure tapestry decorated with a border of flowers and fruit. Silk screened.
VA5029 GREENERY WITH STAG
Woven late 16th Century in Grammont,Flanders in the then new style of "greeneries with large leaves" Silk-screened.
VA5030 BEAUVAIS GREENERY
16th Century tapestry from Audenarde, Flanders with birds and large aristolochia leaves. Silk-screened.
VA5031 FLANDERS FOREST
An early 17th Century-Style verdure tapestry, such as those woven in Brussels.
VA5032 THE CLAIRIERE (THE GLADE)
An early 18th Century tapestry from the Flanders Workshops. A stage is resting in a clearing, with a distant village in the background. A beautiful piece. Silk Screened.
VA144 VERDURE CHANTILLY
Woven in France
100% cotton
Inspired from tapestries woven at the beginning of the 18th Century at the Royal Beauvais Manufactory. This important weaving centre was established circa 1664, and produced a steady output of "Verdure" tapestries, mainly for country residences. This tapestry is hung with hanging batterns with pins. More information is available.
Loom woven
VA146A LA PETITE MAISON
Woven in France. 100% cotton.
From an 18th Century Beauvais verdure tapestry.
VA146B LA PETITE TOUR
Woven in France. 100% cotton.
Beauvais tapestries often featured rich borders and decorative medallions.
R142 BESTIAIRE (BESTIARY)
Woven during the 16th Century, this rich "Aristolochia" tapestry features wildlife amidst a proliferation of large leaves and foliage.
Silk Screened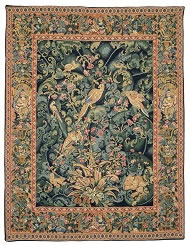 VA143A FEUILLES D'ARISTOLOCHES (ARISTOLOCHIA LEAVES)
This tapestry was originally woven at Audenarde circa 1580, and now hangs in the Museum of Vienna, Austria.
Loom woven in Europe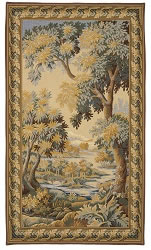 VA143B FORET DE CLAIRMARAIS (CLAIRMARAIS FOREST)
A fine example of the "Verdure" tapestry, many of which were woven in such towns as Tournai and Audenarde in Flanders.
Loom woven in Europe