Italian
Beautiful Italian tapestries are available for purchase at Classic Tapestries. Contact us for more designs.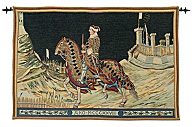 NM2082 KNIGHT OF SIENA
From a fresco dated 1328 in Siena, Italy showing a noble General riding his warhorse. Loom woven
AD7186 LE JARDIN MAGNIFIQUE
A tapestry inspired by an 18th century Italian painting showing an urn of flowers with fruit all framed with a richly decorated border Loom woven
LP6214 THE PORT
A view of a Venetian port with ships and galleons and a view of the distant city. Loom woven
LP6222 THE TERRACE
A well tended garden of a large villa on the shores of Lake Como in Northern Italy. Loom woven.
LP6229 THE TERRACE
A garden terrace on the shores of Lake Como. This tapestry is available with or without hanging loops. Loom woven
LP6249 THE TERRACE
A beautiful villa and garden on the shores of Lake Como. See also entry number LP6222. Loom woven
NM943 LA MANTA
With figures inspired from medieval legends, this tapestry is based on a fresco at the Castello Della Manta, circa 1420
Loom Woven