Cushions
Tapestry cushions add colour, texture and pattern to a room's decor. Cushions on sofas and arm chairs are essential to create a comfortable place in which to relax. Tapestry cushions create a complete look with a wall-hanging tapestry.
If you know what cushion design or theme you are looking for, use the "cushion category" list on the left hand size of your page now to fine tune your search.
Tapestry cushions are supplied with a velvet backing, a zipper at the bottom and a fibre-filled insert. Cushions can be shipped with or without inserts.
For customers who wish to customize their cushion make-up, large and medium cushions are available without backing, ready to be made up as you like. These are referred to as unfinished. An unfinished panel is also suitable for picture framing and making up into a firescreen or a footstool. Classic Tapestries also offers a textile framing service, firescreen make up service and footstool upholstery service. We welcome enquiries. Examples of framed panels made up firescreens and upholstered footstools and chair seats can be viewed at our premises or images can be sent via email.
| | |
| --- | --- |
| Large cushions are approximately 48 x 48 cm : $85.00 | unfinished panels $69.00 |
| Mediums cushions are approximately 35 x 35 cm : $60.00 | unfinished panels $45.00 |
| Small cushions are approximately 20 x 20 cm : $40.00 | |
Note: Some medium and small cushions may feature a slightly simplified design from the large cushions.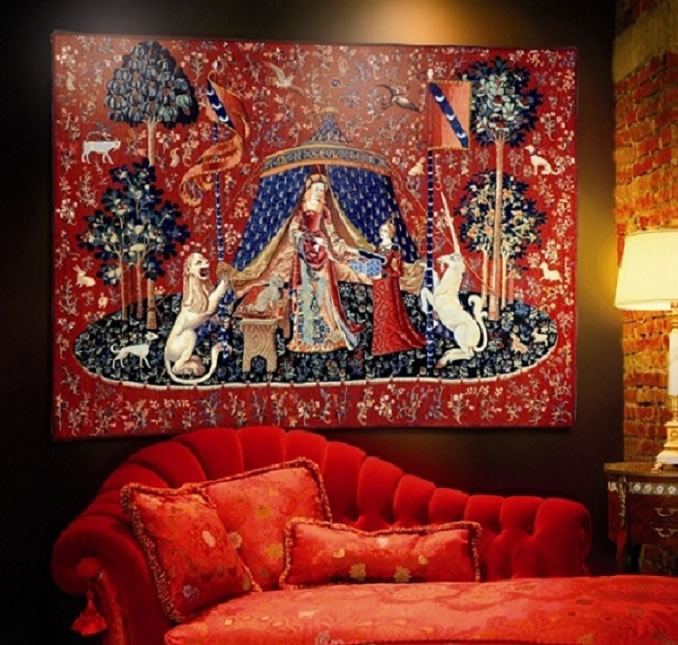 Medieval 'Mille-Fleurs' Collection
Within this category you will find arguably the most famous masterpieces of textile art known as the Lady with the Unicorn. The striking red background against the contrasting dark blue of the island upon which the Lady, the Unicorn, the Lion and the maidservant stand delight the eye. The backgrounds are decorated with flowers and trees and little animals, varying with each tapestry. The lady, her gown, head-dress and jewels are also different for each tapestry. Everything combines to charm and delight as well as to fascinate us with the mystery surrounding the creation of these ancient surviving tapestries.
Many tapestries have a mille fleur background (meaning thousand flowers) but the most famous are the tapestries from the Lady with the Unicorn a series of six tapestries depicting the five senses and the sixth showing the Lady replacing the necklace from around her neck into a casket offered by her maid. The Lady with the Unicorn tapestries are believed to have been woven around 1490 and were brought to the attention of the wider public at the Chateau de Boussac in France during the 1840's. After many long years they were finally brought to the Cluny Museum in France and now occupy a unique purpose built exhibition space.
Other tapestries from this period celebrate aspects of court life and village activities such as winemaking, harvest, concerts, embroidery and shearing.
An extensive range of Mille-Fleurs tapestries and designs are available for purchase at Classic Tapestries. Not all are available for viewing on the website. We welcome enquiries. Please contact us for further designs.