Cushions
Tapestry cushions add colour, texture and pattern to a room's decor. Cushions on sofas and arm chairs are essential to create a comfortable place in which to relax. Tapestry cushions create a complete look with a wall-hanging tapestry.
If you know what cushion design or theme you are looking for, use the "cushion category" list on the left hand size of your page now to fine tune your search.
Tapestry cushions are supplied with a velvet backing, a zipper at the bottom and a fibre-filled insert. Cushions can be shipped with or without inserts.
For customers who wish to customize their cushion make-up, large and medium cushions are available without backing, ready to be made up as you like. These are referred to as unfinished. An unfinished panel is also suitable for picture framing and making up into a firescreen or a footstool. Classic Tapestries also offers a textile framing service, firescreen make up service and footstool upholstery service. We welcome enquiries. Examples of framed panels made up firescreens and upholstered footstools and chair seats can be viewed at our premises or images can be sent via email.
| | |
| --- | --- |
| Large cushions are approximately 48 x 48 cm : $85.00 | unfinished panels $69.00 |
| Mediums cushions are approximately 35 x 35 cm : $60.00 | unfinished panels $45.00 |
| Small cushions are approximately 20 x 20 cm : $40.00 | |
Note: Some medium and small cushions may feature a slightly simplified design from the large cushions.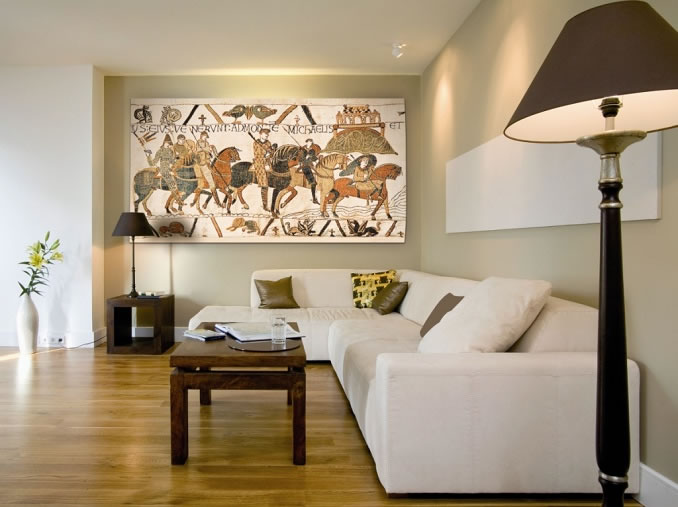 Bayeux Collection
The Bayeux Tapestry is a unique historical record depicting the events surrounding the Norman Conquest of England, which culminated in the Battle of Hastings in 1066 between the armies of Harold, King of England and William, Duke of Normandy. The original tapestry measures approximately 68 metres (224 feet) long, and now hangs at the Museum of Bayeux in northern France.
Classic Tapestries has a very large range of Bayeux designs. Not all are available for viewing on the website. We welcome enquiries. Please contact us for further designs.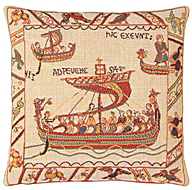 TC567 BAYEUX - MONT ST MICHEL (WOOLBLEND)
This design is also available as a tapestry of varying sizes. For more information we welcome enquiries.
Wool Blend loom woven cushion.
TC570 BAYEUX - BATTLE (WOOLBLEND)
This cushion is a section of the design from the tapestry "Bayeux - Battle of Hastings". This tapestry and others are available to purchase through the website or contact us for more information.
Loom woven wool blend cushion.