Tapestry Purses
Tapestry purses are exquisite loom woven zipped purses with tassels. The images appears on both sides of the purse. Well made and fully lined, purses made beautiful unique gifts.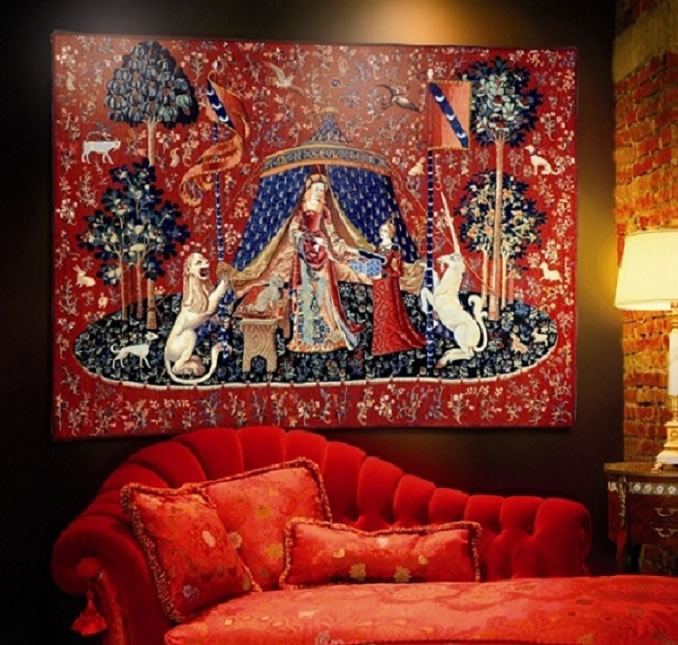 Medieval 'Mille-Fleurs' Collection
Within this category you will find arguably the most famous masterpieces of textile art known as the Lady with the Unicorn. The striking red background against the contrasting dark blue of the island upon which the Lady, the Unicorn, the Lion and the maidservant stand delight the eye. The backgrounds are decorated with flowers and trees and little animals, varying with each tapestry. The lady, her gown, head-dress and jewels are also different for each tapestry. Everything combines to charm and delight as well as to fascinate us with the mystery surrounding the creation of these ancient surviving tapestries.
Many tapestries have a mille fleur background (meaning thousand flowers) but the most famous are the tapestries from the Lady with the Unicorn a series of six tapestries depicting the five senses and the sixth showing the Lady replacing the necklace from around her neck into a casket offered by her maid. The Lady with the Unicorn tapestries are believed to have been woven around 1490 and were brought to the attention of the wider public at the Chateau de Boussac in France during the 1840's. After many long years they were finally brought to the Cluny Museum in France and now occupy a unique purpose built exhibition space.
Other tapestries from this period celebrate aspects of court life and village activities such as winemaking, harvest, concerts, embroidery and shearing.
An extensive range of Mille-Fleurs tapestries and designs are available for purchase at Classic Tapestries. Not all are available for viewing on the website. We welcome enquiries. Please contact us for further designs.
TP355 - MEDIEVAL RABBIT TAPESTRY PURSE
This exquisite purse is loom woven, zipped at the top with a tassle. Quality made and fully lined.